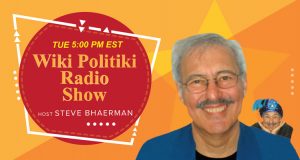 Join us every Tuesday at 2 pm PT / 5 pm ET for the Wiki Politiki Radio Show
---
Wiki Politiki Podcast Past Shows 2021
---

Aired 12 January 2021 – 5:00 PM EDT
An Interview with Dr. Susan Rogers, Director of Physicians for a National Health Program
America's health care system is seriously ill. And maybe instead of seeing a doctor, we need to see a paradox. Here are some paradoxical "irony supplements" to munch on. Did you know…
The U.S. spends more on health care as a share of the economy — nearly twice as much as the average industrial country — yet has the lowest life expectancy and highest suicide rates among the 11 Organization for Economic Co-operation and Development (OECD) nations.
The U.S. has the highest chronic disease burden and an obesity rate that is two times higher than the OECD average.
Americans had fewer physician visits than peers in most countries, which may be related to a low supply of physicians in the U.S.
Compared to peer nations, the U.S. has among the highest number of hospitalizations from preventable causes and the highest rate of avoidable deaths.
Do the math.
Do the aftermath. The chronic illness of our health care system impacts all segments of society and the economy. And perhaps the greatest negative impact is on people of color. Compared to whites, they are more likely to be uninsured, face discrimination that creates barriers to care, and suffer from preventable health conditions and early death.
Our guest this week is Dr. Susan Rogers, director of Physicians for a National Health Care Program. As an African-American and a medical doctor, she has seen first hand how health care for people of color can be – second-hand. This not only has to do with health care delivery, but also prevention, nutrition and other factors that negatively impact health.
---

Aired 5 January 2021 – 5:00 PM EDT
An Interview with Political Psychologist Diane Perlman and Peace and Justice Activist Marilyn Langlois
You may have heard of that controversial documentary called "Vaxxed" that caused quite a stir a few years ago. Well, I am calling the first show of this New Year "vexxed" because so many people are vexed and confounded by conflicting narratives around COVID, vaccinations, Bill Gates and the so-called new world order.
I can tell you in advance we may not get to any definitive answers, but we WILL address some definitive questions to help you navigate the confusion, obfuscation, and the real and true information seeking to get heard. My guests today are not medical professionals, and so will not be offering any medical perspective on COVID and its treatments.
Both of our guests are, however, are experts on propaganda and communication and will offer us a "meta-view" of what is being communicated, how it is being communicated and to what end.
Both psychologist and conflict analyst Diane Perlman and progressive activist Marilyn Langlois are associated with Transcend International, a solutions-oriented peace project based on the work of Johan Galtung, that seeks to move beyond win-lose and even compromise, to achieve breakthrough solutions.
---