About Wiki Politiki Radio Podcast
"Where left and right come front and center to face the music and dance together, to turn the funk into function and leave the junk at the junction"
Despite what we hear and see on the news, we have a deeply UNITED body politic in America.  Whether people identify as progressive, conservative, independent or "other", the vast majority of Americans believe our current pay-to-play political system doesn't represent them.  Particularly in the election of 2016, where the candidate named "Neither of the Above" would have won in a landslide, citizens are feeling disheartened, discouraged and disenfranchised.
The elephant — and donkey — in the living room is the growing awareness that neither of the two major parties has the people's interest at heart, nor the good of the commonwealth for that matter.  The system is incapable of fixing itself, and so what is required is an "intervention" by the entity that our founding documents, The Declaration of Independence and the Preamble to the Constitution declare is the "sovereign" of our republic:  we, the people.
---
About Wiki Politiki
WIKI POLITIKI is a podcast, a platform, a context and a community where sane and functional ideas can "come out and play", and where we can use our intelligence more intelligently in this "shrinking world that could definitely use a good shrink."  We're not afraid to look darkness in the heart at Wiki Politiki.  And … we do so with love, humor, compassion, and equanimity.  And we invite you to become part of our community where we identify, nurture and proliferate the practical visionary ideas that will bring what our colleague Charles Eisenstein calls "the more beautiful world our hearts know is possible.
---
Where Can You Hear These Solutionaries and Luminaries?
Tom Atlee — Stephanie Austin — Joan Blades — Georgia Kelly — Bruce Lipton — Richard Lang — Dr. Leonard Laskow — Mark Crispin Miller — Veronica Monet — Terry Patten — William Pepper — Phil Proctor — Ocean Robbins — Paul Craig Roberts — David Swanson
… and many more
On Wiki Politiki Radio!
---
Latest Wiki Politiki Podcast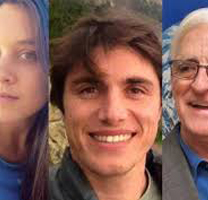 Aired Tuesday, 13 November 2018, 5:00 PM EST
An Interview with Sacred Order Co-Founders Skylar Wilson and Jennifer Berit Listug
"Earth — love it or leave it." — Swami Beyondananda
"I promise to be the best lover and defender of the Earth that I can be."
Can taking such a vow make a difference?
Skylar Wilson and Jennifer Berit Listug, our guests on Wiki Politiki this week think so. They, along with Matthew Fox, the noted priest and father of Creation Spirituality, have founded a "spiritual order" for our times, the Order of the Sacred Earth.
I am reminded of a famous Gandhi quote. When asked what he thought of Western Civilization, he replied, "I think it would be a very good idea."
While our civilization has excelled at science, technology, and the gleaning of material knowledge, we seem to be on the verge of flunking Wisdom 1.1. Ever since we put Descartes before the horse nearly four centuries ago, society has focused its attention on the material world as the be-all and end-all. And the "end-all" idea may be exactly where we are headed. Read more here.