Latest Wiki Politiki Podcast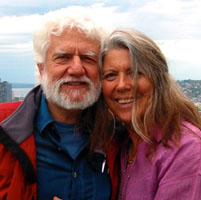 Aired Tuesday, 18 September 2018, 5:00 PM EST
An Interview with Intentional Community Advocates and Activists Bill Kauth and Zoe Alowan
"We're all one with the same One, totally unique just like everyone else." — Swami Beyondananda
Unfortunately, no one could stand to live with him.
As anyone who was part of the intentional community movement 40 or 50 years ago can attest, the challenge back then was to align the utopian ideal with the down-to-earth "real deal". Not only were there the issues of many (often immature) egos, but the cultural changes as we've moved from a more communal rural existence to a more impersonal urban / suburban one.
However, these days there is a growing awareness that the ability to connect, cooperate and collaborate with each other is an evolutionary trait, key to our survival and thrival.
Our guests this week, Bill Kauth and Zoe Alowan, have spent the better part of their lifetimes in creative endeavor and service, and seeking to find elegant and effective ways to facilitate functional and nourishing community. Bill and Zoe are co-creators of the committed, non-residential Community they call "Tribe".  Together they have delivered more than 65 seminars around the world and co-authored the book "We Need Each Other".  Read more here.